Butterkist was struggling to find relevance in a sector which was seeing a number of new popcorn brands entering the market; new, skinny popcorn was making popcorn trendy and providing consumers with new occasions to eat popcorn.
Our Approach
Following in-depth research, it became clear that consumers loved Butterkist because of its indulgent taste. Additionally, we unlocked a clear and critical insight. In a society where families are fragmented and spend little time together, Butterkist has a unique ability to bring families together.
First the packaging. A new stripped back look, focusing on taste of flavour was established. A new more robust film was introduced to not only premiumise packs but to create a more robust structure that would sit proud on shelf.
Placing our brand truth at the centre, we developed a campaign around the idea of 'owning and making the moment' and sharing the great taste of Butterkist, with just the right amount of playfulness to appeal to Brits' quirky sense of humour.
We planned and executed an integrated campaign comprising TV, OOH, Digital and Shopper to create an impactful and memorable campaign that would effectively not only engage consumers, but interrupt and remind throughout the shopper journey and drive sales.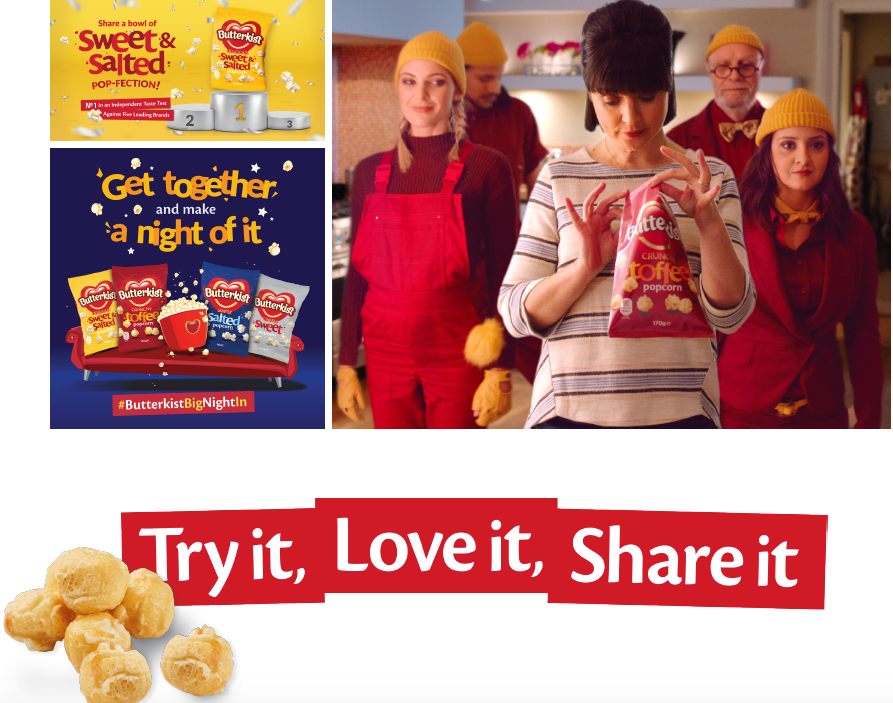 The campaign returned the brand to growth, allowing Butterkist to grow the category as well as the brand.
On the back of the campaign, the brand was awarded Star Brand status by Millward Brown following unprecedented scores for brand awareness, engagement, saliency and consideration with consumers.